Nostalgia Night at the T.L.T., December 12th 2012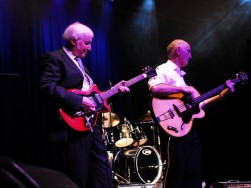 Harry O'Reilly & Tommy Leddy of The Toppers performing at the book launch in the TLT
In aid of Palliative Care and the Alzheimer's Society.
On December 12th the TLT Theatre in Drogheda will host a "Night of Nostalgia" with many of the bands and artists featured in the book "Play It Again Paddy".
Take a trip down memory lane with music of the 40′s, 50′s, 60′s and 70′s.
Featuring The Toppers, Bold as Brass, Doctor Boogie, The Underworld, Smile, Harry Martin and friends, Brendan Crean and many more.
Tickets are €15 and available to buy from the TLT on 041 9878560 and online at thetlt.ie.